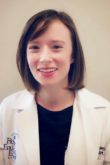 Dr. Rockwell was born and raised in St. Catharines, Ontario. She completed her B.Sc in Biomedical Laboratory Diagnostics at Michigan State University. While there, she competed on the varsity women's rowing team as a coxswain for 4 consecutive years.
After graduating, she moved to Fort Lauderdale to earn her Doctorate of Optometry degree at Nova Southeastern University College of Optometry.
Dr. Rockwell is excited to be back up north serving the community of Buffalo and Niagara Falls. Outside of the office, she loves practicing yoga, being on the water, skiing, baking pies and spending time with her family and friends.