Raindrop® Near Vision Inlays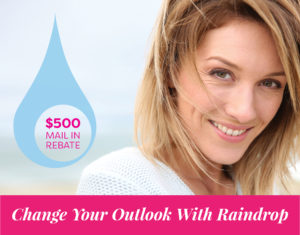 Change your outlook with Raindrop® From now until March 31, you can get $500 OFF your procedure. Find more about the Raindrop Rebate Program – including terms and conditions and how Raindrop can address presbyopia.
---
Reduce your dependency on reading glasses.

If you wear reading glasses to compensate for a loss of near vision, you may benefit from a Raindrop® Near Vision Inlay. This tiny, transparent corneal inlay – about the size of a pinhead and thinner than a piece of paper – is placed just beneath the surface of your eye to reshape your cornea and improve your ability to read, use your phone or work with small objects. A long-term solution, it is implanted in only one of your eyes to improve near vision. Afterward, both of your eyes will work together to give you a clearer picture of both near and far objects. Raindrop is a minimally invasive eye surgery, requires only a 10-minute outpatient procedure, done in the office in as little as 10 minutes and, thanks to numbing eye drops, patients experience no discomfort. Therefore, you can return to normal activities and expect to see a noticeable improvement in your near vision within the first week. Raindrop is an FDA approved near vision inlay made by ReVision Optics, Inc.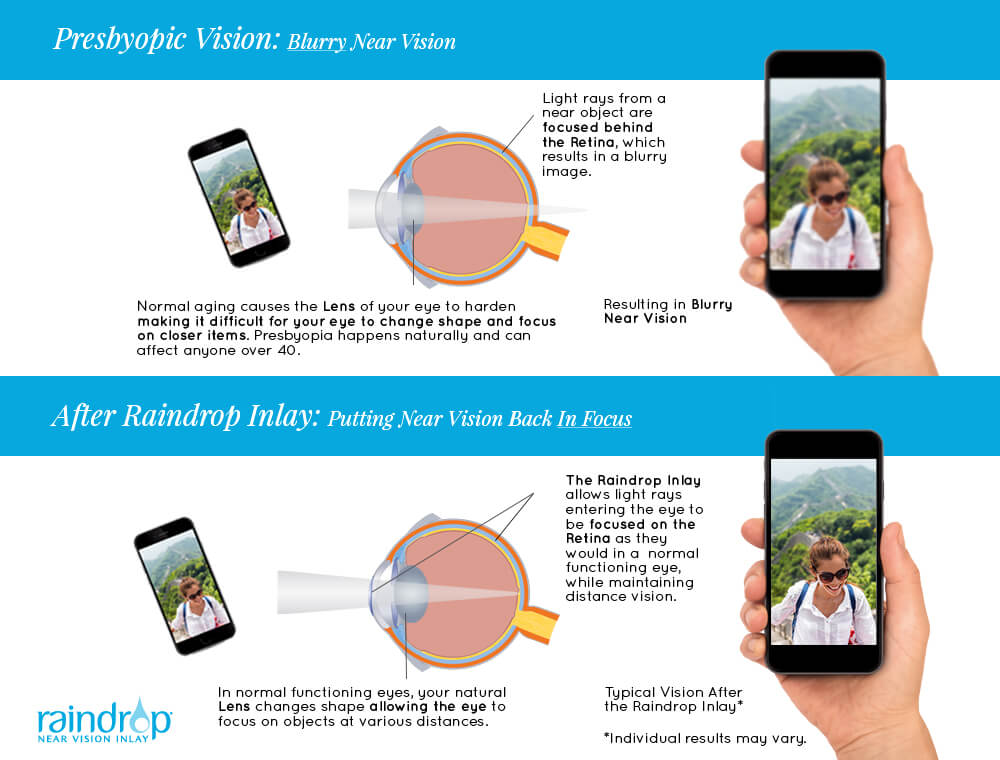 For more information about the Raindrop® procedure, call Fichte Endl & Elmer in Amherst at (716) 564-2020 or our Niagara Falls office at (716) 282-1114 for information on how you can benefit from this new breakthrough technology. You can also read our Raindrop® FAQ article, which gives answers to many questions, and the Improve Your Near Vision With the Raindrop Inlay Procedure article provides more details about the surgery.
Fichte Endl & Elmer is your authorized Raindrop Physician in Amherst and Niagara Falls, NY.
---
Interview Post Raindrop® Surgery

Dr. Michael J. Endl chats with Mike just 7 days after his Raindrop® procedure. Mike is a Toronto police officer looking for a procedure that benefits vision at all ranges and discusses how the procedure has impacted his positively impacted his job and home life.
---
Raindrop Procedure Animation

Watch a short animation demonstrating what the Near Vision Inlay looks like in the eye.
---
Facebook Live Raindrop Procedure

Our very own Marketing Director Kevin O'Brien underwent the Raindrop® procedure live on Facebook Live on August 4, 2017. If you missed it, no worries. You can see it here.