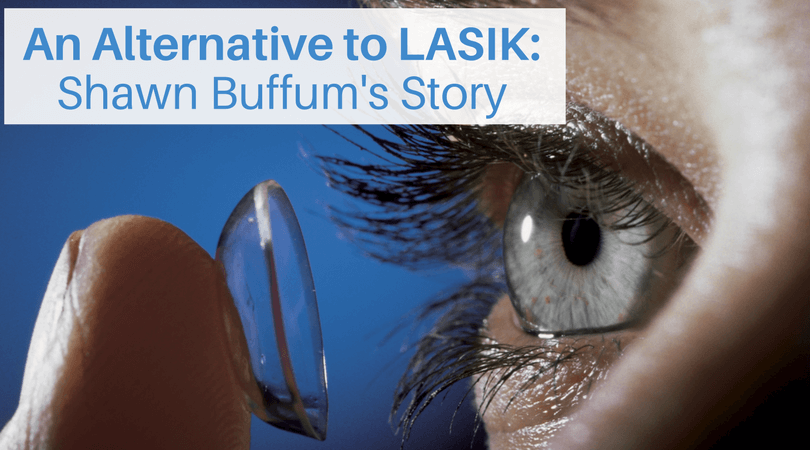 Vision changes as we age. At some point, everyone notices a difference in their vision. Sometimes, this change is miniscule and doesn't require assistance from more than over-the-counter reading glasses. Other times, the change affects daily life to the point where an optometrist comes into the picture.
Whether your near vision or distance vision is affected, changes in your ability to see clearly can cause frustration. Many assume that glasses and LASIK are the only solutions. What they don't know is that there are a variety of alternatives to glasses or laser vision correction. It's common for patients to feel uncertain about the permanence of a laser vision procedure like LASIK. This was the case for Shawn Buffum.
Another Solution
Shawn was experiencing changes in his vision, especially while reading. While Shawn was not a Fichte Endl & Elmer Eyecare patient previously, his wife had LASIK 20 years ago with Dr. Fichte and was very impressed with the outcome. When Shawn expressed his interest in LASIK, he was encouraged by our Coordinator of Marketing and Outreach, Kathy Otto, to come in for an evaluation with Dr. Needham.
"I've always had glasses for distance but [a previous eyecare provider] recommended a progressive lens for reading," Shawn says. "I had those through the end of 2017. I don't like wearing glasses period, but having one that's bifocal is a deal breaker because it messes with depth perception. I'm active in outdoor activities, and, while wearing glasses is a minor issue, the difference in magnification throws you off and I didn't like that."
Shawn initially came to Fichte Endl & Elmer Eyecare to explore his options with the Raindrop® Near Vision Inlay procedure. During his consultation and exam, we discovered that he had astigmatism and presbyopia. These are both common vision changes for people in their early 40s. LASIK and Raindrop® were treatment options for these conditions, but Shawn was uncomfortable with the permanence of the procedures.
With his wife's positive experience with LASIK, Shawn thought he would be comfortable having the procedure. Once he realized there were other options, he started having second thoughts about choosing a solution that was irreversible.
"What I give Fichte Endl & Elmer Eyecare credit for is they'd make a lot more money doing LASIK, but Dr. Needham really listened to what I was saying," Shawn says. "I told him I didn't hate wearing glasses, but I didn't like wearing them outdoors. So, he suggested contacts. I hadn't thought of that option. He pointed out that it was an economical solution that would fit my lifestyle. He wasn't pushy. He listened and found a solution. I can cross the LASIK bridge later if I decide I'd rather have that."
Dr. Needham suggested starting Shawn with monovision contacts, a solution that allows him to return to glasses when he chooses and leaves LASIK as an option down the road.
What Are Monovision Contacts?
Monovision contacts are a non-permanent solution for near and distance vision problems. One contact is worn to correct near vision in one eye and another is worn (typically on the dominant eye) to correct distance vision. While this may lead some to assume the eyes will be confused by the differing prescriptions, this is not the case. Since both eyes work as a team, the patient is easily able to see both near and far without the use of reading glasses or bifocals.
Improved Quality of Life
During the initial evaluation, Shawn was prescribed a trial set of contacts. These are used to decide which contacts will best fit a patient's needs prior to writing a full script. The prescription was matched to what Shawn's vision would be like after LASIK to allow him to see if he would like the outcome prior to the procedure.
"I wore those for two weeks," Shawn says. "When I came back, they did an exam, and I saw 20/20 on both reading and distance."
We ask each of our patients if they are 20/20 happy—meaning, are they happy enough with the correction that they could see themselves living with it. "Absolutely," Shawn responded. This was the correct prescription.
Before patients leave with their first pair of contacts, they meet with Ethel Caldwell, a licensed optician and contact lens specialist. She teaches patients how to put contacts in and take them out, and lets them practice until they are comfortable enough to do it at home on their own.
"When you first get home and are trying to figure out how to do it, it's nerve-wracking," Shawn says. "Ethel sits with you and makes sure you know what you need before you leave. They really pay attention to comfort."
"Initially, I experienced some discomfort while wearing the contacts," he adds. "Out of the gate, it's hard if you haven't worn contacts before. I had contact awareness. My body was very aware they were in my eyes. When you put them in, it feels like you have an eyelash in your eye. It feels odd, like you've been cutting onions or have allergies, but that lasted only a day or two."
With time, Shawn got used to wearing contacts and no longer feels discomfort.
"I didn't expect to wear contacts every day, but I love them and wear them daily," he says.
"The biggest change I've noticed is how the contacts affect the little things," he adds. Switching from glasses to contacts causes everyday tasks to become simpler.
"Progressive glasses were an issue with doing anything that involved depth perception," Shawn says. "Now, I don't have to wear glasses, clean them, keep track of them, or have readers nearby."
Limitations usually imposed by glasses were no longer issues.
"One of the biggest changes I noticed happened the week I got the contacts," he says. "I had to go outside to do some snow blowing after a storm. It's the worst thing to go in and out during the winter. Glasses fog over. Normally, I wouldn't wear glasses to go out and snow blow, and it was interesting to be able to go outside and see what I was doing. Then, I could go back inside and not have foggy vision. The same thing happens with rain. I don't have to dry off my glasses anymore."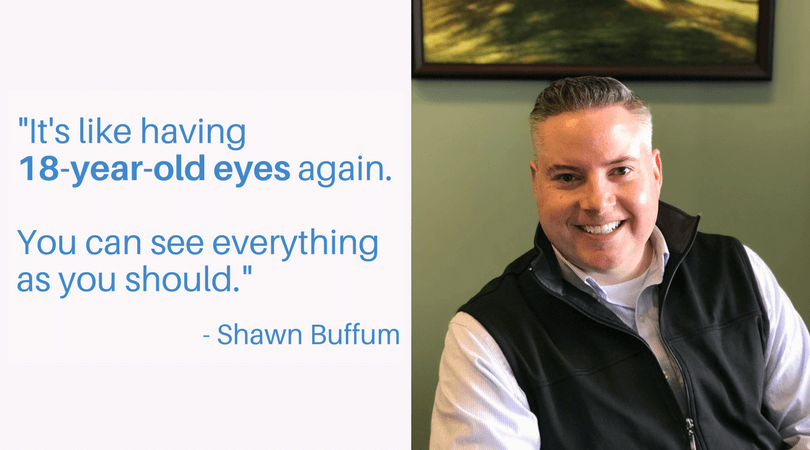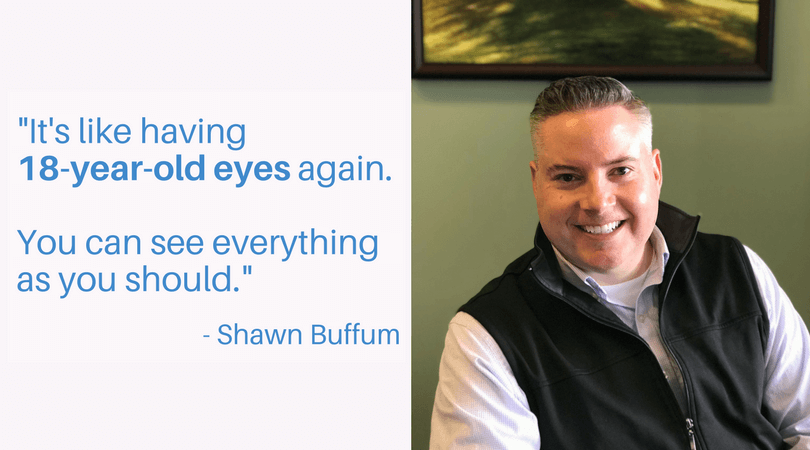 Our staff is dedicated to finding the perfect vision solution to fit your lifestyle. For more information, contact our office at (716) 564-2020 or register to attend one of our monthly Vision Solutions Open House events.