Address
6500 Porter Rd, Suite 2020
Niagara Falls, NY 14304
Call Us
Phone: 716-282-1114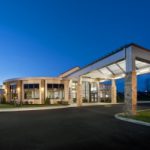 After 30 years in our Pine Ave location in Niagara Falls, we outgrew our office and built a brand new state of the art multi million dollar facility on Porter Road in the Town of Niagara . This new office also has an attached surgery center. The Ambulatory Surgery Center of Niagara has its own entrance but is located int he same building. Now patients can have their eye exams, get their surgery and their glasses all under one roof.
Hours of operation are:
Niagara Falls Office
Mon 8-6
Tues 8-7
Wed 9-6
Thurs 8-6
Fri 8-6
Sat – Closed
NOTE: The hours of operation posted here for the office and Optical Boutique may change slightly from time to time. We are always re-evaluating patient needs and trying our best to offer a variety of week end and extended hours at both locations. If you are making a special trip in to pick up glasses, contacts, or have a frame adjusted etc. you may want to call to be sure the Optical Boutique is open.
Niagara Falls Optical Boutique
Mon 9-6
Tues 9-7
Wed 9-6
Thurs 9-6
Fri 9-6
Sat- Closed