Claus M. Fichte M.D.
Founding Partner, Medical Director, Eye Physician & Surgeon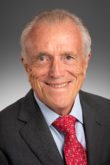 Dr. Fichte is the founding partner of Fichte, Endl & Elmer Eyecare, with a lifelong interest in cataract & laser eye surgery. An FDA clinical trial investigator for the original diffractive multifocal intraocular lens studies, he then studied laser eye surgery in Berlin, Germany. Subsequently, he co-founded the Ultra-lase Refractive Laser Eye Centers in England. Upon FDA approval in the US, he was the first to perform PRK and Lasik surgery in upstate NY and has performed countless thousands of laser eye surgeries.
Dr. Fichte has been a speaker at numerous international and national eye meetings and co-authored numerous papers in peer-reviewed ophthalmic journals and books. His current interests include alternative strategies to prevent future eye disease presentation and progression.