Claus M. Fichte M.D.
Founding Partner, Medical Director, Eye Physician & Surgeon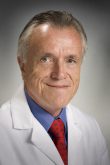 Dr. Fichte is well known as one of the country's leading surgeons in both cataract and refractive surgery. As a clinical investigator, he has been instrumental in the introduction of many new and improved techniques in ophthalmology.
At present, he is closely involved with the new multifocal intraocular lens implant, a "no-stitch" surgical technique and the use of laser to correct eye problems such as nearsightedness, farsightedness and astigmatism.