For patients who are having their cataracts removed, the Symfony IOL is implanted during surgery. The Symfony is used to replace the natural cataract-affected lens of the eye. The Symfony does not change how cataract surgery is performed; it only changes the way you see afterward. Patients see clearly almost immediately after surgery, with full results achieved shortly after.
Why choose Symfony?
Many patients who receive the Symfony IOL find that they no longer need their reading glasses, which is a large advantage over standard lenses. Another distinct advantage over standard lenses is a decreased chance of experiencing the annoying glare and halos around lights. The Symfony IOL also provides patients with improved vision at ALL distances!
How do I get the Symfony IOL?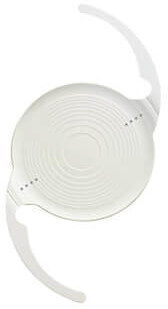 The TECNIS® Symfony IOL is a newer offering for those that are suffering from presbyopia in addition to cataracts. The Symfony IOL is the only lens that has been approved to treat presbyopia, as well as improve distance vision. Unlike many intraocular lenses, the Symfony IOL doesn't give patients halos or glare around lights, instead of leaving them with clear, crisp vision.
How Does the Symfony IOL Work?
It is important to note that Symfony is a revolutionary new lens, but it's not for everyone. For those suffering from both cataracts and presbyopia, the Symfony IOL is a great new option for regaining clear vision. To learn more about the Symfony IOL and to see if it is right for you, schedule a consultation.