Michael J. Endl M.D.
Partner, Eye Physician & Surgeon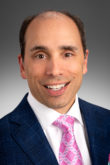 Dr. Endl is a partner at Fichte, Endl & Elmer Eyecare. He is also head of ophthalmology at Niagara Falls Memorial Medical Center in Niagara Falls, NY and is the Medical Director of the Ambulatory Surgery Center of Western New York in Amherst. He is an FDA clinical trial investigator and has presented peer-reviewed papers at the American Academy of Ophthalmology and the American Society of Cataract and Refractive Surgeons (ASCRS) annually since 2001. Dr. Endl has also written numerous chapters in books and peer-reviewed medical journals. He has performed over forty thousand refractive surgery procedures, and over the past ten years has expanded his corneal practice to include micro-invasive glaucoma procedures and advanced corneal drafting.