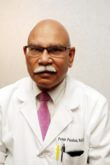 Dr. Paulus received his medical degree from King Edward Medical College in Lahore, Pakistan. After completion of his studies, he followed by an internship in pediatrics. He practiced general medicine for several years in Christian mission hospitals in Pakistan.
Dr. Paulus also completed an Ophthalmology residency in England, and after five years, was elected as a fellow of the Royal College of Physicians and Surgeons of Glasgow, U.K.
Dr. Paulus completed his Ophthalmology residency at SUNY Buffalo NY.
Dr. Paulus is a Board Certified Ophthalmologist. He is a member of the American Academy of Ophthalmology, American Society of Cataract and Refractive Surgery, and the Christian Medical Society.
Dr. Paulus is married and his wife is also a physician. They have three children and three grandchildren.