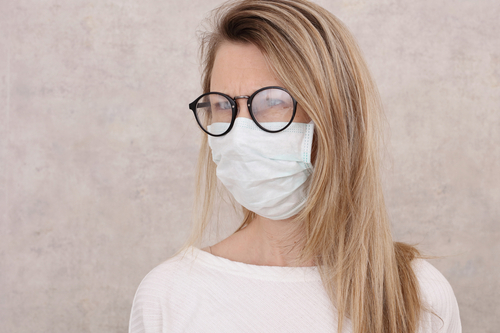 Many changes have taken place in the world over the past several months, making the preparation key when leaving the house. Remembering your mask when you go out to run errands or head to work has become paramount!
Wearing a mask can come with complications. For people with glasses, using a mask can easily make them fog, making it difficult to see clearly.
What can you do? Keep reading for 5 tips for wearing a mask with glasses!
1. Use Soapy Water or Shaving Cream on Your Lenses
Using soapy water or shaving cream on your lenses can be helpful if you don't want your glasses fogging up when you wear a mask. Wearing a mask is a necessity right now, so being able to see makes it much more comfortable!
How do these simple items help keep your glasses from fogging? Both of these turn into a surface-active agent.
This means that they leave a thin residue on your lenses. The residue helps prevent your lenses from fogging up while wearing a mask. This will only work once the surface-active agent is dry, so make sure you plan ahead.
2. Get Anti-Fog Wipes or Spray
If you can buy them, you should get anti-fog sprays or wipes. These have rapidly gained popularity as others realize how they can help eliminate foggy glasses when wearing masks.
They are a great option because they have silicone compounds and ethanol in them. These compounds act as an absorbent. The transparent residue these wipes leave on your lenses prevent them from fogging up.
For the most effectiveness, re-apply the spray every 3-5 days, and your eyes will thank you!
3. Wear Your Glasses Over Your Mask
While this sounds like an easy option, it can be more difficult than you would think. If you decide to go this route, you still have to make sure that your mask covers your nose and mouth.
Covering your nose and mouth is what protects yourself and others. You need to wear your mask as high as possible on the bridge of your nose.
After you do this, you should then be able to rest your glasses on top of your mask. This might not work for every mask or every pair of glasses. If this is the case, you may need to buy a different mask that will let you wear it higher to accommodate your glasses.
4. Keep Your Mask Tight
Having an adjustable mask is key, allowing you to tighten it further and keep as much air from escaping from the top of the mask. A loose mask isn't doing you any favors.
You want a mask that fits tightly around your face. It shouldn't let air in or out through the top or through the sides.
Ideally, you should have a mask that you are able to adjust the ear loops on. If it feels too loose, keep adjusting the ear loops until no air comes out the top.
5. Are There Any Other Options?
If you really don't want to deal with wearing a mask and glasses, you could also consider LASIK. Currently, our LASIK pricing starts at just $133 per month*.
If you're serious about this, the first step is finding out if you're a good candidate for the procedure. If you qualify for LASIK, this is a permanent way to say goodbye to glasses and contact lenses! LASIK is a life-changing procedure that has plenty of benefits that you'll enjoy long after the pandemic is over.
Wondering if LASIK may be right for you? Schedule a LASIK consultation at Fichte, Endl & Elmer Eyecare in Buffalo, NY today!
If wearing glasses with a mask is something you're tired of, LASIK may be the solution you're looking for!
*Price is based on a traditional bladed LASIK procedure financed over 24 months at zero percent interest. Interest rates are based on patients' credit scores and are determined by Care Credit, the national lender we work with.