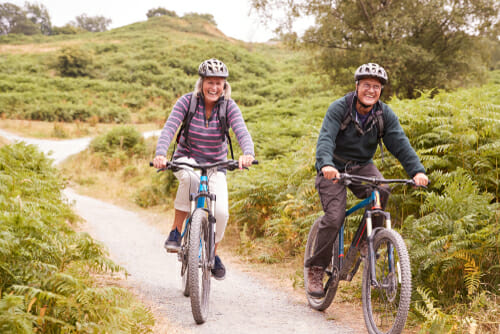 Do you like being physically active? If you have cataracts, having cataract surgery is the only way to regain your clear vision. But if you want the best fit for your lifestyle, premium lenses may be the way to go.
Whether you enjoy riding your bike, golfing, going for a swim, doing yoga, or performing any other physical activities regularly, you may be wondering which type of lens is right for you.
Keep reading to find out if premium lenses are worth it for active lifestyles!
What Is a Premium Lens?
During cataract surgery, you'll have the clouded natural lens of your eye removed and replaced with an intraocular lens, called an IOL. Many kinds of IOLs available, depending on your lifestyle and visual goals after cataract surgery.
Monofocal IOL
With a standard, or monofocal, lens, you can only have your vision corrected for a single distance. Being able to see with a monofocal IOL means that you may be able to see well far away, but you will still need glasses for up-close tasks like reading.
Or, if your near vision is more important to you, you can choose to have excellent vision for up-close tasks. The trade-off is that you may still need glasses when looking at objects further away.
Multifocal IOL
While monofocal IOLs are the more traditional option, premium lenses like the multifocal IOL are now available thanks to advancements in medical technology. Multifocal IOLs give you the ability to see clearly from every distance and are becoming more and more popular.
Most patients that receive a premium lens no longer need to rely on glasses or contacts after cataract surgery. Not only are your cataracts gone, but your vision also drastically improves.
Premium Lenses for Active Lifestyles
For those who have an active lifestyle, a premium IOL multiplies the effects that a monofocal IOL can offer. When performing physical activities, you want to see clearly from any distance. With a monofocal IOL, you may still need to rely on visual aids after cataract surgery.
However, glasses or contacts can get in the way of the activities you enjoy. Your glasses can easily fall and become damaged or lost, while contacts can become uncomfortable, tear, or slip out.
When you opt for a premium lens, you don't have to worry about your eyewear holding you back. You can be as active as you want without giving your vision a second thought.
Which Type of Premium Lens Is Right for Me?
There are several different types of premium lenses available. One of the newest premium IOLs offered at Fichte, Endl & Elmer Eyecare is the PanOptix trifocal lens.
The PanOptix trifocal IOL gives you improved vision from any distance, whether near, far, or intermediate. You can enjoy all the benefits of this latest technology, as we are the first practice in Western New York to use this lens.
In addition, we also offer the Tecnis Multifocal and the Tecnis Symfony lens. The Tecnis Multifocal IOL is ideal for those who perform activities in varying levels of light.
It corrects presbyopia as well, so you no longer need reading glasses. The Tecnis Symfony IOL also decreases the need for reading glasses, along with annoying instances of halos and glare.
Another great option is the Vivity IOL. With proprietary X-Wave technology, you can benefit from very good distance and intermediate vision and functional near vision. A significant perk is that you can decrease or even eliminate your need for glasses.
If you have astigmatism, a toric lens may be the best option. Toric IOLs are the only IOL specifically designed for patients with astigmatism. With the ReStor Toric, Symfony Toric, Trulign Toric, and Envista Toric lenses, you can experience improved vision at multiple distances.
Do you have cataracts and live an active lifestyle? Call Fichte, Endl & Elmer Eyecare at 1-800-309-2020 in Buffalo, NY, to schedule an appointment and learn more about premium lenses. You can also attend one of our monthly cataract Lunch and Learn events hosted by the doctors. Here is a link to our events page!