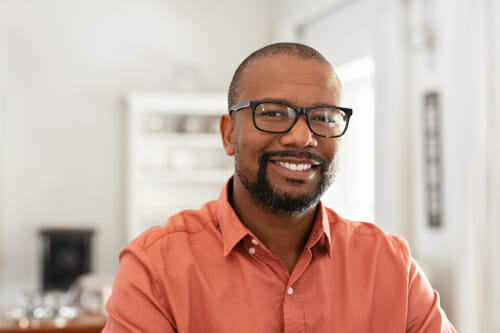 Would you like to say goodbye to your glasses or contacts once and for all? With laser vision correction, it's possible to significantly reduce or eliminate the need for glasses and contact lenses.
LASIK is a popular procedure that can permanently correct nearsightedness, farsightedness, and astigmatism. It accomplishes this through the gentle reshaping of the cornea. Every year in the United States, 600,000 people benefit from this procedure.
SMILE is the newest form of FDA-approved laser vision correction. Over 6 million SMILE procedures have been performed globally since its FDA approval in 2015.
Many individuals with refractive errors contemplate getting LASIK at one point, but it is not for everyone. Not sure if LASIK could be a good fit for you? Keep reading for five signs you could be a good candidate.
1. You're at least 18 years old
Before the age of 18, many components of our bodies are still developing, including the eyes. As your hormones change, it can also lead to your eyes changing.
Getting LASIK or SMILE at an earlier age may not lead to your desired results. Waiting a little longer ensures that your eyes will no longer change or need to continue developing when you have LASIK.
2. Your prescription hasn't changed in the past year
If you find that your prescription tends to change regularly, a one-time procedure may not be the best option for you. One of the most important factors for LASIK or SMILE candidacy is having a prescription that hasn't changed in at least a year. Some LASIK surgeons require this to be at least two years.
3. Your eyes are healthy
You shouldn't have conditions like cataracts, glaucoma, or age-related macular degeneration to qualify for laser eye surgery. These can complicate the procedure's ability to improve your vision successfully.
In addition, you should not have any conditions affecting corneal thickness. A small amount of tissue is removed from your cornea during the procedure. Therefore, it is essential that the cornea not be too thin.
4. You don't have dry eye syndrome, or it's under control
Before getting a laser vision correction procedure, you need to have conditions like dry eye syndrome under control. Once you can manage your dry eye symptoms, you may qualify for a procedure. Your eye doctor may recommend a medication like eye drops to decrease symptoms.
5. You are in good health
When considering candidates for laser vision correction procedures, more than the health of your eyes gets taken into account. Good candidates are also in good health overall.
If you have autoimmune conditions like Sjogren's syndrome or other auto-immune conditions, it can potentially compromise how successful the procedure is.
6. You're not currently pregnant
If you're currently pregnant, this is not the time to get LASIK. During pregnancy, the hormones created can cause your eyes to change, making laser vision correction less effective.
For the best results, you should wait to have LASIK for at least three months after you've delivered your baby. Waiting three months will ensure your eyes have time to go back to normal if they changed.
Are you interested in discussing whether LASIK could be a good fit for you? Find out if you could be a LASIK candidate by calling Fichte, Endl & Elmer Eyecare at 1-800-309-2020 to schedule your consultation in Buffalo, NY, today!