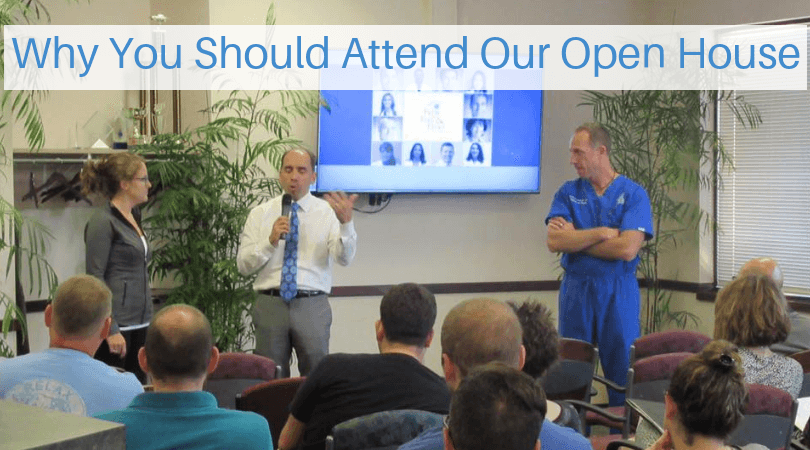 At Fichte Endl & Elmer Eyecare, we provide our patients with information to make the best possible choices for correcting their vision through surgical procedures. We do this through open houses for a variety of our procedures, including LASIK and cataract surgery. During these events, we provide informative presentations, live procedures for LASIK, and one-on-one time with our surgeons to answer any questions you may have.
Cataract Surgery Lunch-and-Learn – Monthly
Our cataract surgery lunch-and-learns are held every month at our Amherst office. Learn all about the variety of lens options, the difference between all laser cataract surgery versus traditional cataract surgery, and what procedures are covered by insurance. Advance registration is required. View our events calendar for a full list of upcoming Cataract Surgery Lunch-and-Learn details.
Evening Vision Solutions Open House – Monthly
Each month, we host an evening vision solutions open house at our Amherst office. During this time, you can attend one of two informative sessions discussing LASIK or reduced dependency on reading glasses. Our LASIK session gives you the chance to meet the surgeons, see an informative presentation, and watch a live LASIK procedure. (That's right — we said live!) If you've ever wondered what's involved in the LASIK procedure from start to finish, this is your opportunity to see firsthand how painless and fast this procedure is.
The other session gives you the opportunity to discuss the different solutions we offer to reduce dependency on your reading glasses. These include monovision contacts, multi-focal contact lenses, cataract surgery with multi-focal lens implants, and LASIK.
Extra Perks:
Discounts
If you attend the LASIK session of our vision solutions open house, we will waive the fee for your LASIK evaluation (a $150 value).
Learn Directly from our Surgeons
Unlike other area open house events where you learn about surgical procedures from marketing or clinical staff, Fichte Endl & Elmer Eyecare surgeons host both Lunch-and-Learn and Vision Solutions sessions. During these times, you have the opportunity to meet the surgeons and get to know them in an intimate setting. You will also learn about the procedures and options directly from the doctors. Our team stays until the close of each event so every attendee can ask their questions before leaving.
Refreshments
We provide refreshments for all our events. Food is provided by Franco's Pizza.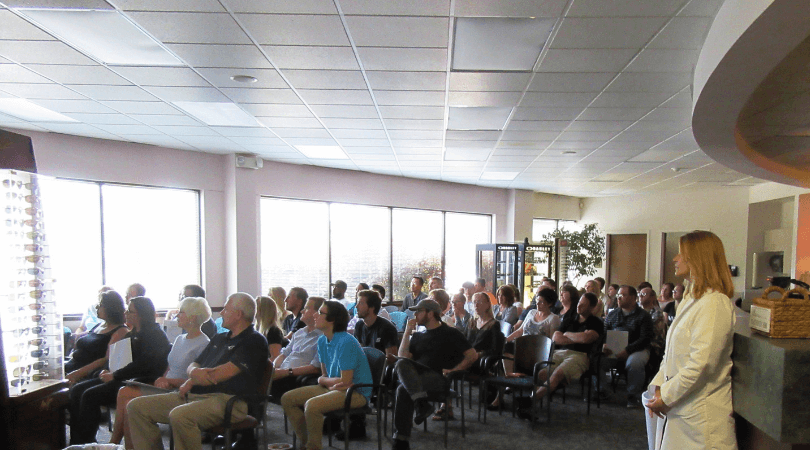 Online Resources:
Facebook Live Surgery Events
Six times per year, our talented surgeons host Facebook Live Surgery events. See procedures firsthand and know what to expect when it's your turn. Past events are located on our Facebook page.
LASIK Webinar
At various points throughout the year, we offer simple and fun webinars to help you learn more about whether laser vision correction is right for you. Topics include the biggest reasons patients choose to undergo laser vision correction, recent studies of the procedures, and a live Q&A session with the surgeons.
Fichte Endl & Elmer Eyecare Blog
Our blog is full of articles discussing a wide variety of eyecare topics. From surgical procedures to patient testimonials, we cover newsworthy topics to arm you with the resources you need to make educated decisions for your eye health.
Whether you have already done your research or are thinking about having a procedure for the first time, we are happy to help you. Come in, see the facility, meet the surgeons, and take home all the information you need to get on the right path to your pe­­rfect procedure.
Are you ready to attend an open house? Go online to view our calendar of events and sign up for free! If you have more questions, please call (716) 564-2020.