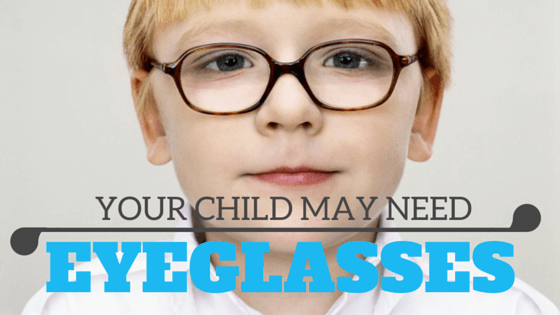 A young boy sits in class and stares at his book. He has been asked to read out loud, but he has lost his place. The words blur together and his cheeks grow red. He doesn't know where to begin, and the teacher is waiting.  
It is often difficult for children to communicate their vision problems because they may not understand them. Vision problems can make it difficult for children to learn and progress at the same rate as their peers. How can you tell that your child may need glasses? Look for these warning signs:
Trouble Reading
Children who often lose their place while reading may need glasses to correct vision problems, like astigmatisms or strabismus. Astigmatism is a defect in the eye caused by a deviation from spherical curvature, resulting in distorted images. If your child has double vision or tilts their head while reading, these are indicators of strabismus. Strabismus is a failure of the two eyes to maintain proper alignment.
Squinting
If a child continuously squints when focusing on something close up or sits too close to the television, they may be far-sighted. Similarly, if a child squints when looking into the distance, they may be near-sighted. These vision issues may keep children from performing well in sport-related activities. Squinting may also indicate other vision problems, like eye infections or poor eye muscle balance, which can cause a lazy eye.
Frequent Headaches
Children who experience frequent headaches (not severe migraines) during reading, playing on the computer, or focusing on close objects need to get their eyes checked for hyperopia or farsightedness. Being far-sighted causes extra strain on the eyes from trying to focus.
You may be able to catch these vision problems early by having your children's eyes regularly examined. The American Academy of Ophthalmology recommends children to have full eye examinations during these essential ages:
Newborn: Checked for infections, defects, cataracts or glaucoma.
By 6 Months of Age: Well-Child visit for vision development and health
At 3 to 4 Years of Age: Vision is checked for any abnormalities for proper development.
At 5 Years of Age and Older: Vision should be checked every year during routine eye exams.
Thomas R. Elmer, Jr MD, a board certified surgeon and ophthalmologist, and Dr. Adrienne Cassata, OD, a pediatric optometrist are head of thechildren's eye care at Fichte Endl, & Elmer Eyecare. They cover a variety of eye problems and visual disorders in children.