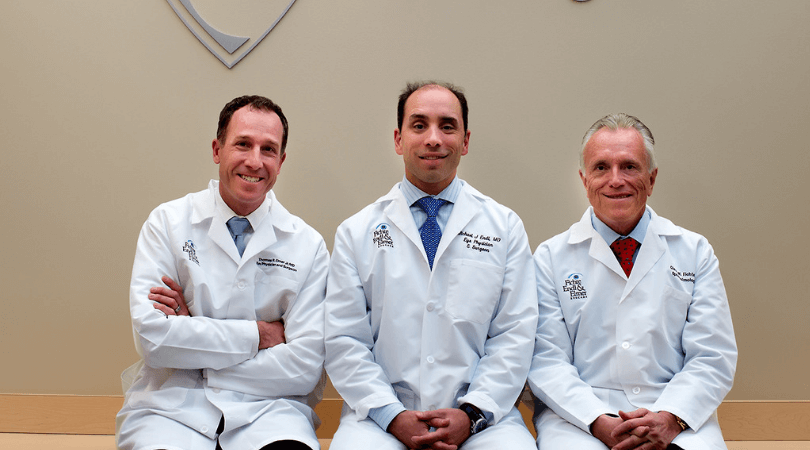 Most people take seeing for granted — until seeing clearly becomes a problem. Then, normally the first thing the average person will consider is a pair of glasses. For many people, corrective lenses easily correct a vision problem for a number of years.
But, when your eyesight deteriorates to the point that your daily activities are affected; when a change of prescription still seems ineffective; when complaints of blurry vision, double vision, light sensitivity, "blind spots" and cloudy vision become apparent – or, for numerous other eye conditions – it is time to look beyond the routine eye exam and consider what other treatments may be necessary.
It makes sense to bring your eye care matters to a practice that not only does routine exams, but that can also perform surgical and other medical procedures on-site. This is not only extremely convenient for patients but also has other benefits as well.
Good Vision is a Family Concern
By going to an all-inclusive eye care facility, you only have to make one stop for most eye care and eyewear for each member of your family.
According to CDC statistics, even though seniors have a greater percentage of eye problems, preschoolers are not immune. However, only 1 in 7 young children receives an eye exam. It is estimated that 11 million Americans aged 12 or older could see better if they received corrective lenses or appropriate eye surgery.
Another benefit of a family-oriented practice is that histories are easily compiled, and because some eye-related conditions are hereditary or common to family groups, diagnosis is often simplified.
Benefits of All-Inclusive Eye Care
As a practical matter, a great advantage of being treated at an all-inclusive eye care facility is having consolidated patient records. Should you have a question about your eye care, or in case of a medical condition that affects your vision, your treatment history is easily accessed, and often your doctor is present for every type of exam or procedure you need. The benefits of this patient-physician relationship are consistency in treatment, condition awareness, and trust.
For example, if you bring your child in for their first eye exams and find an irregularity, not only can an all-inclusive treatment center write and fill a prescription for lenses, but the treatment center can also perform surgery or other necessary medical procedures in the same building. Not only will the doctor be familiar with your child's unique condition, but your child will trust the doctor, and the decisions for treatments can be made based on experience and knowledge gained through the patient-physician relationship.
We Are Your All-Inclusive Eye Care Facility
With three locations in the Niagara Falls-Amherst, N.Y., area, our physicians, surgeons, and associates are available to help you and your family with any vision and sight concerns you have.
Our all-inclusive facilities include state-of-the-art technology and our caring professionals are experts in their fields. Contact us today to schedule an appointment!