Fichte Endl & Elmer Eyecare is now the first practice in Western NY to perform cataract surgery with the Alcon PanOptix Trifocal lens. This lens is the first and only FDA-approved trifocal lens, which has been shown to substantially reduce the need for glasses following cataract surgery.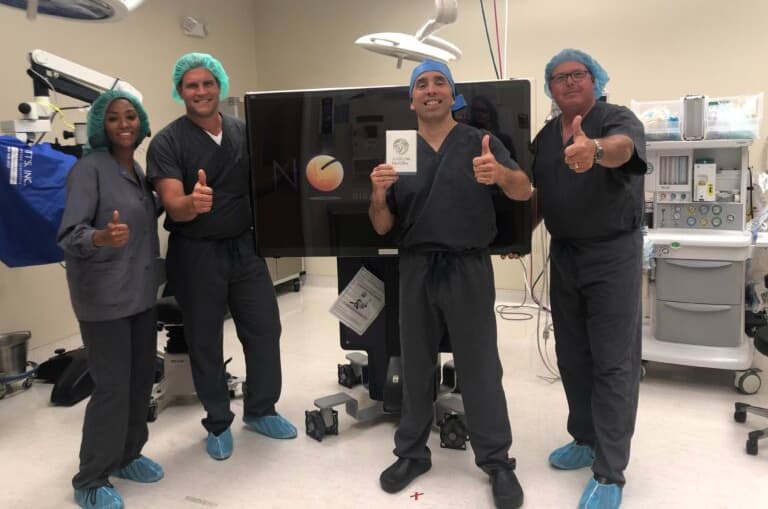 The Alcon PanOptix Trifocal lens improves vision at three distances: up-close, intermediate, and far away. For patients, this means support of a more active lifestyle following cataract surgery. From viewing texts and photos on a mobile device to experiencing quality distance vision while exploring outdoors, the trifocal lens provides clear vision across multiple distances.
How do traditional IOLs work?
During cataract surgery, the natural lens of the eye is removed and replaced with an artificial lens, providing clear vision. Traditional lenses are monofocal, meaning their design only corrects vision at one distance. These lenses can either focus light coming from a distance or near, meaning a patient must choose between the two when undergoing cataract surgery.
Some patients may choose to correct one eye for distance vision, and one eye for near vision, which can provide some independence from glasses. Many patients set their IOLs for distance vision and use reading glasses as an aid for near-vision activities like reading and crafts.
Multifocal IOLs
Multifocal IOLs are able to aid both near and distance vision due to their advanced design. Depending on the focal point, the eye and brain communicate which part of the lens to look through, allowing users to adjust their vision. While the Multifocal IOLs are able to correct vision at varying distances, some users find that intermediate distance vision is not as crisp as they would like.
What is a trifocal IOL?
With sections set to multiple refractive powers, trifocal intraocular lenses allow for strong near, intermediate, and distance vision. This new, unique design allows cataract patients to achieve visual acuity more seamlessly, with studies showing a 99% patient satisfaction rate.
Benefits of the PanOptix Trifocal IOL:
The PanOptix Trifocal IOL is the only FDA-approved trifocal IOL in the United States
The IOL design includes blue light filtering, which protects your eyes from screen and sunlight damage
Enhanced reading vision that dramatically reduces or eliminates the need for reading glasses
To determine if you are a candidate for the PanOptix Trifocal IOL, you can schedule a cataract surgery consultation with one of our experienced surgeons. We also encourage our patients to join us at one of our cataract surgery lunch and learns, where we discuss cataracts, cataract surgery, and new technology to reduce dependency on glasses and reduce astigmatism.
At Fichte, Endl, & Elmer Eyecare, we work hard to provide our patients with the latest in vision correction technology. We are excited to now offer our patients the PanOptix Trifocal IOL for cataract surgery to enhance your vision care options.