Aging comes with many changes to your body and health, and our eyes are no exception! Over time, vision can slowly blur, become foggy, or begin to take on a yellow hue.
For millions of people, their vision decline could be due to having a cataract. Cataracts go hand-in-hand with aging and are a treatable condition.
Cataract surgery can be a liberating experience, restoring and improving vision and helping patients to get back to the things they love most. Our goal at Fichte Endl & Elmer Eyecare is to educate our community about options available for cataract patients and their surgery, helping others to make informed decisions about their health.
Keep reading to find out more about the monthly Cataract Surgery Lunch and Learns held at Fichte Endl & Elmer Eyecare!
What is a lunch and learn?
A lunch and learn is the opportunity to enjoy a complimentary lunch and learn more about a topic – in this case, cataract surgery! We discuss the procedure, lens options, and the newest technology available to help our patients to achieve clear vision. Our Lunch and Learn events are completely free to attend, and we encourage our guests to bring a spouse or friend along with them!
When a patient is informed that they are developing a cataract and will need surgery, it's very common to have questions surrounding the process and procedure. Common questions include:
● How do you know when it's time to get cataract surgery?
● What happens during cataract surgery?
● What is recovery from cataract surgery like?
● Can cataract surgery correct other vision conditions?
● Do I want a standard IOL that Medicare will cover or a premium IOL?
That's where Fichte Endl & Elmer Eyecare comes in! When you attend one of our Lunch and Learns, you'll learn the ins and outs of what to expect from cataract surgery. Each Lunch and Learn is lead by one of our expert cataract surgeons, who will review information about what a cataract is, laser cataract surgery, and the differences between various IOL (intraocular lens) options.
Our lunch and learns are also the perfect opportunity to ask questions, have them answered by a surgeon, and enjoy a free lunch on us!
Our cataract surgery lunch and learns aim to educate and reduce stress for our patients. Here are some photos from a past event: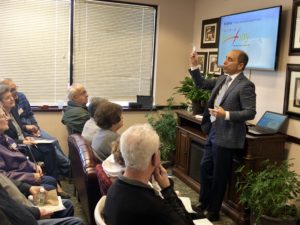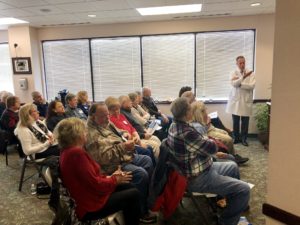 You can see a full schedule of our upcoming Cataract Surgery Lunch and Learns and register online here or call us at 1-800-309-2020.
We hold Lunch and Learn once a month at our Amherst location. There is no cost to attend, space is limited, so you must register in advance. We encourage you to bring a spouse or friend!
We can't wait to see you!