In January, we will be moving back to a virtual LASIK open house format. Even though you can't attend our LASIK open house in person, you can still enter to win a free LASIK procedure by attending! How? Keep reading to learn all about it!
Your safety is our top priority. For this reason, Fichte Endl, & Elmer Eyecare is moving our January and February LASIK open houses to a virtual format on Zoom.
Meet the LASIK Winners From 2020!
By attending our LASIK open houses, you can enter to win our LASIK promotions. Getting LASIK is truly a life-changing experience. Here are some of the great people that won our promotion in 2020!
Ian Boyle, Co-owner of Tonawanda Woodworks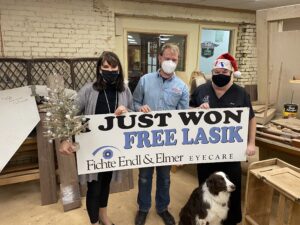 Your sight is incredibly important, but in woodworking, you need to be able to see clearly. That's why we're so happy that we were able to give free LASIK to Ian Boyle, who is the co-owner of Tonawanda Woodworks.
We hope that with visual freedom from glasses and contacts, he'll continue creating beautiful wood products for many years to come!
Anna Galati, Licensed Real Estate Agent and Co-owner of Buffalo Home Realty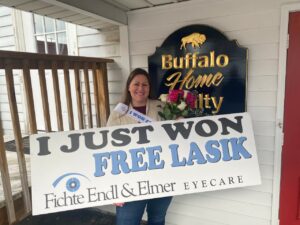 Who wouldn't love free LASIK? But as a real estate agent, you have to be able to see all the little details when it comes to selling a home. That's why Anna Galati was a perfect winner for free LASIK!
We wish her endless years of happiness with her new crystal clear vision!
During the Event
Our virtual LASIK open house is hosted by our world-class LASIK surgeons. After all, they are the LASIK experts!
During the presentation, they will walk our audience through the LASIK procedure. This covers the initial consultation all the way through the recovery period.
Guests will be able to view an actual LASIK surgery previously performed on a patient. He will share his LASIK experience with the audience and will answer any questions you may have from a patient's perspective.
After the LASIK discussion, the surgical presentation, and the patient's personal story, our surgeons will be available for any questions you may have about the procedure.
This is a great opportunity to virtually meet the surgical staff who will be performing your own LASIK surgery.
Enter to Win a Free LASIK Procedure!
The best part about our LASIK open house is that you have the chance to win a free LASIK procedure! Who doesn't love the sound of that?
Whoever wins a free LASIK procedure will have it covered by Fichte Endl & Elmer Eyecare free of charge. All attendees of our LASIK open house are automatically entered to win the free LASIK procedure.
All attendees from our December, January, and February LASIK open houses will be entered to win. In March 2021, we will draw ONE lucky winner! You can view the complete official sweepstakes rules on Fichte, Endl & Elmer's Facebook page.
2021 is a new year. Why not start it with the perfect vision you've always dreamed of? After all, when you undergo LASIK, it's truly the gift that keeps on giving back for the rest of your life.
We Look Forward to Virtually Meeting You
Ready to find out why LASIK is a life-changing procedure? The first step is to sign up for our virtual LASIK open house! Register today on Fichte Endl & Elmer's site by clicking here!