Have you noticed that your eyes are looking more droopy and tired than they used to?
If it seems like your eyelids are sagging, you could have 'acquired blepharoptosis', which is the medical term for sagging upper eyelids. This condition affects millions of people every year.
The eye care professionals at Fichte, Endl & Elmer Eyecare now use the only FDA-approved eye drop for sagging upper eyelids.
This exciting new treatment, called Upneeq, can lift your eyelids within hours of your first treatment! With a more awake, youthful appearance you can feel more confident, and vision can also improve as your field of vision can widen and open up once the lids are lifted.
What is Acquired Blepharoptosis?
Acquired blepharoptosis, or 'low-lying lids', is a condition that results in drooping eyelids. It happens because the muscles that hold your eyelids up can weaken and stretch over time.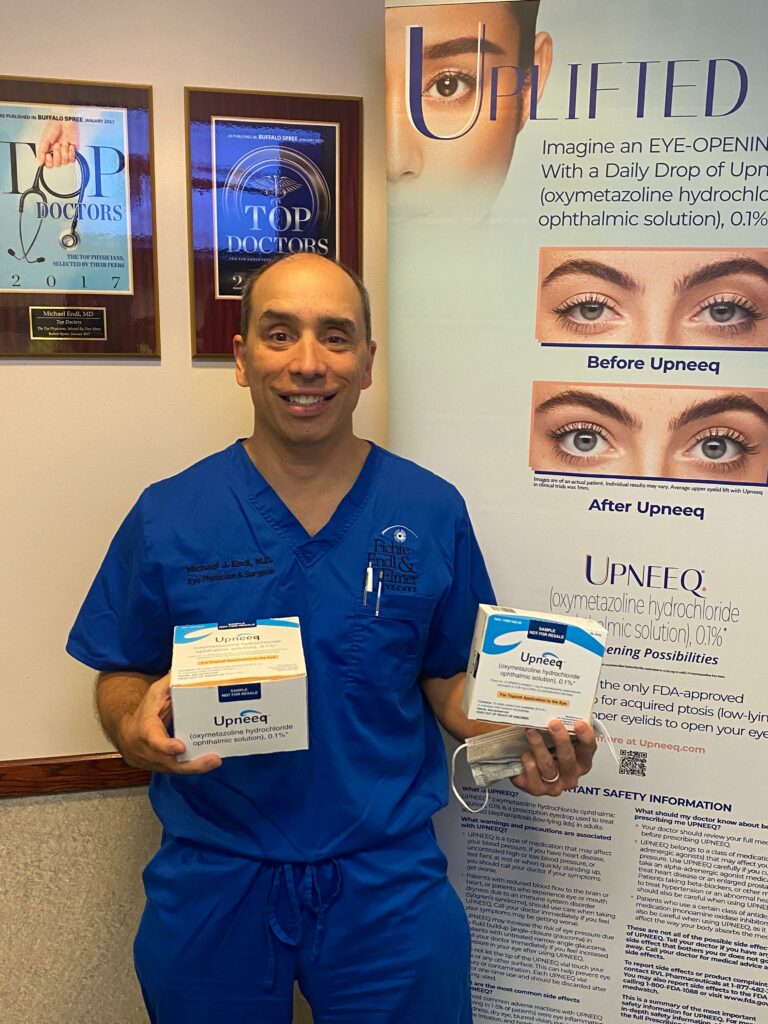 This stretching causes your upper eyelids to begin to sag in front of your eyes. If left untreated low-lying lids can block your vision.
This can interfere with day-to-day activities like reading, driving, and using the computer. It can also make you need to tilt your head back to see directly in front of you.
Acquired blepharoptosis usually occurs as you age, but it can affect adults of any age. Other medical conditions can also cause low-lying lids.
There are various ways to treat acquired blepharoptosis, and up until now, surgery was the only treatment. Upneeq is a new therapy that can lift your eyelids without surgical intervention.
What is Upneeq?
Upneeq is the first and only FDA-approved prescription eye drop proven to lift upper eyelids. It increases your visual field by contracting specific muscles in your eyelids.
This contraction pulls your eyelids away from your pupils. Upneeq is so fast-acting that it can lift your eyelids and help you see better on your first day of use!
It delivers rapid, visible lift to your upper eyelids with a once-daily application. It usually takes between twenty minutes and two hours to work, but some patients have seen results in as little as five minutes.
How Do You Use Upneeq?
Upneeq is a once-daily at-home treatment for acquired blepharoptosis. It comes in single-use vials, each containing a daily dose of medication.
To begin, unwrap the single-use vial. Then, drop the dose of medicine in your eyes.
Be sure to avoid touching your eye and other surfaces with the tip of the vial. A dirty dropper could cause irritation or contaminants to get into your eye.
Do not reuse vials if there are small amounts of drops left in them. Also, if you wear contact lenses, you need to take them out before applying your Upneeq drops.
After the drops are in your eyes, wait fifteen minutes before putting your contacts back in. If you use other topical eye drugs, wait at least fifteen minutes between applying your Upneeq drops and other eye medications.
What are the Side Effects Of Upneeq?
As with any medication, Upneeq does have potential risks. These side effects are rare, and most patients do not experience them.
Does Insurance Cover Upneeq?
Insurance does not cover Upneeq. However, that does not mean it is expensive. A thirty-day supply of Upneeq, delivered directly to your door, only costs $105.
Are you interested in Upneeq to lift your drooping upper eyelids? Call 1-800-309-2020 to schedule an appointment at Fichte, Endl & Elmer Eyecare in Buffalo, NY today! One of our eye doctors will help you decide if Upneeq is right for you!