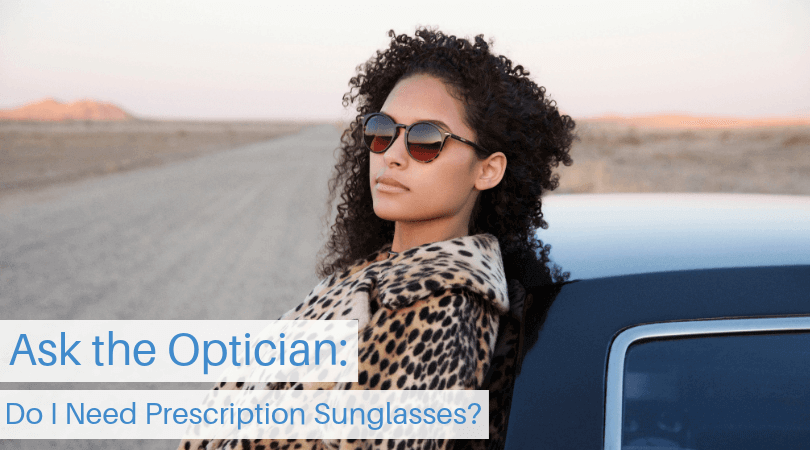 Whether you're at the beach or shoveling snow, sunglasses are a beneficial investment. Prescription sunglasses not only protect your eyes from harmful ultraviolet (UV) rays, but they provide convenience when driving, vacationing, and participating in other outdoor activities. We spoke with Gordon Sage, managing optician at Fichte Endl and Elmer Eyecare, about the benefits of owning prescription sunglasses.
Why are prescription sunglasses important?
"Aside from the comfort and benefits they have assisting you in what you see in bright light, prescription sunglasses also have a medical benefit," Gordon says. Sunglasses can block harmful UV rays from harming your eyes.
UV-A and UV-B rays can cause a variety of vision problems including cataracts and photokeratitis. "Twenty percent of cataracts can be prevented by reducing your eye's prolonged exposure to the sun," he adds.
What should you consider when selecting a pair of prescription sunglasses?
"First, you want to consider the fit – are they comfortable?" Gordon says. "Try to pick a pair with a larger lens so the sunlight doesn't go over the top or around the side of the lens. When selecting the frame material, remember metal frames get hot – especially if left in the car."
For optimal protection, choose a pair with 100 percent UV protection or "UV400." If you would benefit from glare reduction from reflective surfaces (such as pavement, metal, water, and snow), try sunglasses with polarized lenses, backside anti-reflective coatings, and mirror coatings. If you participate in sports or regular outdoor activities, polycarbonate lenses with scratch and waterproof coatings can be essential to the longevity of your prescription lenses.
Why are prescription sunglasses worth the cost?
"Prescription sunglasses are worth the cost as they are made custom to you," Gordon says. Sunglass lenses can be designed to meet specific prescription and measurement specifications while correcting refractive errors caused by sunlight.
If you spend a lot of time driving or outdoors, the convenience of prescription sunglasses could be worth the cost alone. Our optical specialists can help you find the pair of sunglasses to match your lifestyle and budget.
What are the benefits of owning prescription sunglasses instead of transition lenses or contacts?
"While owning transition lenses is nice and they do serve a purpose, owning two pairs of sunglasses is even nicer," Gordon adds. "Transition lenses will not change behind the windshield of a car. They are also heat temperamental, which means the warmer it is, the less dark they will get, and you'll want dark lenses when the sun is hot. Transition lenses only get to about 60 percent dark whereas prescription sunglasses are approximately 80 percent dark."
Prescription sunglasses can come in handy on days when your contacts are dry or irritate your eyes. This can be especially beneficial when driving long distances or running a quick errand. Don't run the risk of being without clear vision on sunny days.
What brands of prescription sunglasses do you sell in the optical boutique?
"In our optical boutique, any frame we carry can be made into a pair of sunglasses," Gordon says. "The brands we highly suggest are Serengeti®, Maui Jim®, Oakley®, and Ray Ban®."
"We are proud to have recently added Serengeti to the existing lines we carry," he adds. "I felt it was the one missing piece for our patients' needs. The unique part of the Serengeti lenses is the 3-in-1 technology that only Serengeti is able to provide."
Serengeti sunglasses are designed with high-performance technology to achieve optimal clarity outdoors. The 3-in-1 technology includes photochromic, polarized, and Spectral Control® lenses to provide optimal protection in a variety of conditions.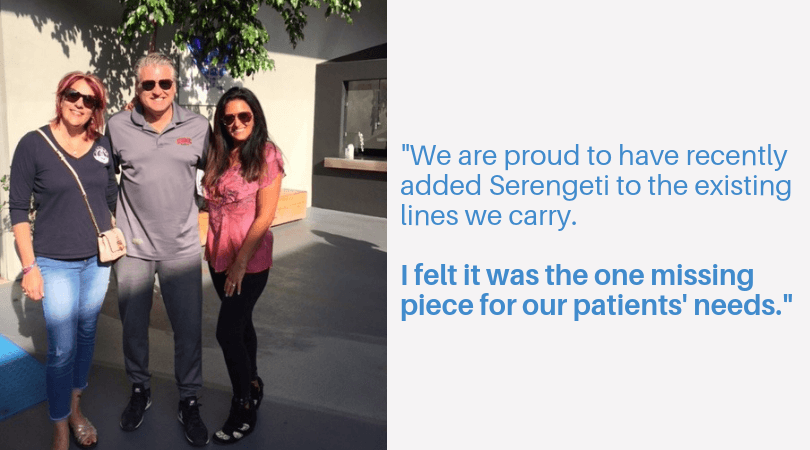 "This September, I had the opportunity to travel to Los Angeles for the Serengeti VIP Brand Experience," Gordon shares. "They not only educated me on the brand but wanted to hear my opinion. Being someone who works with the public, this was great as I could tell them what my patients like and want."
Prescription sunglasses protect your eyes from a variety of environmental hazards while providing the convenience of clear vision outdoors. Visit our state-of-the-art optical boutique to learn more about our new line of Serengeti sunglasses and find the perfect pair to fit your lifestyle and prescription needs. Contact us today to schedule your visit.