Annual eye exams often don't get the credit they deserve. Even if you were once told you had 20/20 vision and have not noticed any significant changes in your ability to see, it is important to visit an optometrist or ophthalmologist annually. From detecting the early signs of a variety of health conditions to maintaining the current quality of your vision, eye exams can be vital to your overall health.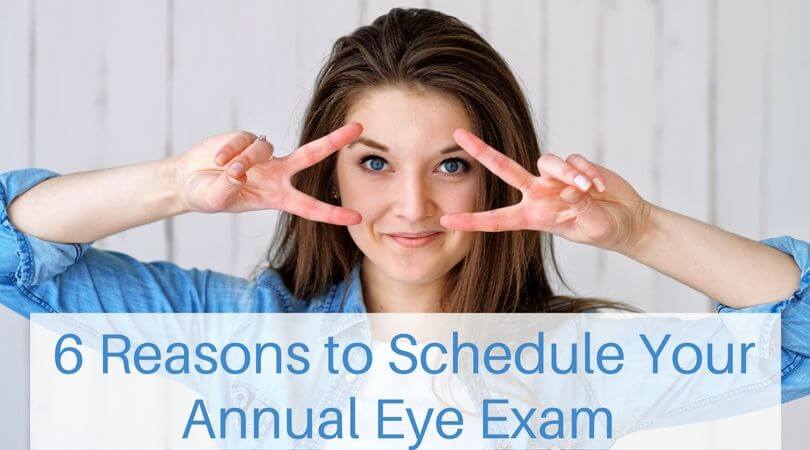 1. Vision changes over time
As people age, their vision changes. Just as you would visit a doctor regularly to monitor your heart, teeth, or skin, it's equally important to have your eyes checked out. As you age, you are at a higher risk of developing eye diseases. Regular eye exams allow you and your doctor discuss healthy vision and track your eye health over shorter periods of time. This helps detect potential problems earlier.
2. Detect early signs of various conditions
Eye diseases can develop without obvious symptoms. During an eye exam, it is possible for doctors to detect early signs of a variety of conditions including: autoimmune disorders, diabetes, high cholesterol, high blood pressure, cancer, aneurisms, multiple sclerosis, and more. That's right! Your eyes can give away signs of other types of health conditions – not to mention eye-related concerns like glaucoma or cataracts. How can these conditions be determined from an eye exam? In an exam, a retina-scope is used. This hand-held instrument allows doctors to clearly visualize blood vessels and nerves.
In today's world, people look at computer, phone, and television screens on a consistent basis. Studies have shown that screen time can negatively impact your eyes. During an annual eye exam, you and your doctor can discuss ways to avoid and resolve this type of digital eyestrain and damage.
3. Monitor your child's vision
Children often find it difficult to communicate or articulate vision problems. It is commonly assumed that school screenings cover the same bases as an annual eye exam. School nurses perform beneficial routine tests, but do not dilate the eyes, a practice that allows doctors to uncover potential problems. If you see your child struggling with common vision-oriented tasks, your child may need eyeglasses. Most insurance plans cover annual eye exams for parents and children, so don't waste the opportunity to protect your child's vision.
4. Poor vision is dangerous
Vision impairment can harm both yourself and others. Operating a motor vehicle with poor vision can put a number of people in danger, including yourself and your family. Did you know that at night your vision drops 2 lines on the eye chart due to lack of daylight and proper lighting? At night, your vision is even MORE compromised. Annual eye exams can detect and resolve vision impairment so you're safer behind the wheel.
5. Improved quality of life
Achieve your goals for your eyesight during your annual eye exam. Don't live with less than optimal vision. There are many treatments available including LASIK, Near Vision Multifocal Contact lenses, and eyeglasses, that can improve your vision and overall lifestyle. If you're tired of the glasses and contacts routine, an annual exam is a great time to ask about maintenance-free vision solutions.
6. You only get one pair of eyes
Treat your eyes with care. Regular eye exams can make it simple to maintain your eye health and take care of your vision. You only get one pair of eyes. Don't mistreat them.
Annual eye exams are vital for maintaining your eye health and vision. Whether you need to schedule your first eye exam or your first in a while, our clinical team at Fichte, Endl & Elmer Eyecare will treat you with advanced, gentle care. View a map of our locations or contact our team today to schedule your annual eye exam.